Access our CAD Library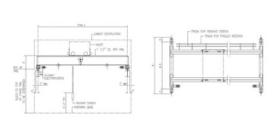 The American Crane CAD Library houses easy-to-download CAD drawings, down to the most specific specifications.
The drawings are available to download as DWG and PDF files and are broken down by model, capacity, span and many other specifications.
Some of the available categories include:
Double Girder Cranes Class A-C Top Running with Fixed Wheels (Less Hoist)
Open Deck Hoisting Machinery Standard Class D with Planetary Gearbox
Top Running Trolleys
Low Headroom Monorail Trolleys
Simply fill out the form to access the American Crane CAD Drawings Library today.